Summary
If you are visiting our research group at Aalto University, here are our recommendations:
Flights: to Helsinki Airport ("HEL")
Hotel: in Helsinki city centre, near the Central Railway Station.
Airport to hotel: train "P" or "I"

"Airport" – "Central Railway Station", approx. 30 min

Hotel to our campus: metro train "M1" or "M2" (underground)

"Central Railway Station" – "Aalto University", approx. 11 min
You will need a "regional ticket" for all trips (both airport – city centre and city centre – Aalto University). Both the airport and our campus are outside Helsinki, so Helsinki internal tickets are not valid. Buy tickets from a ticket vending machine or use the HSL mobile app; examples of ticket prices:
single regional ticket (valid for approx. 1.5h):

ticket vending machine: 5.00€
mobile phone app: 4.20€

6-day regional ticket (valid for 6 × 24h):

ticket vending machine: 49.00€
mobile phone app: 49.00€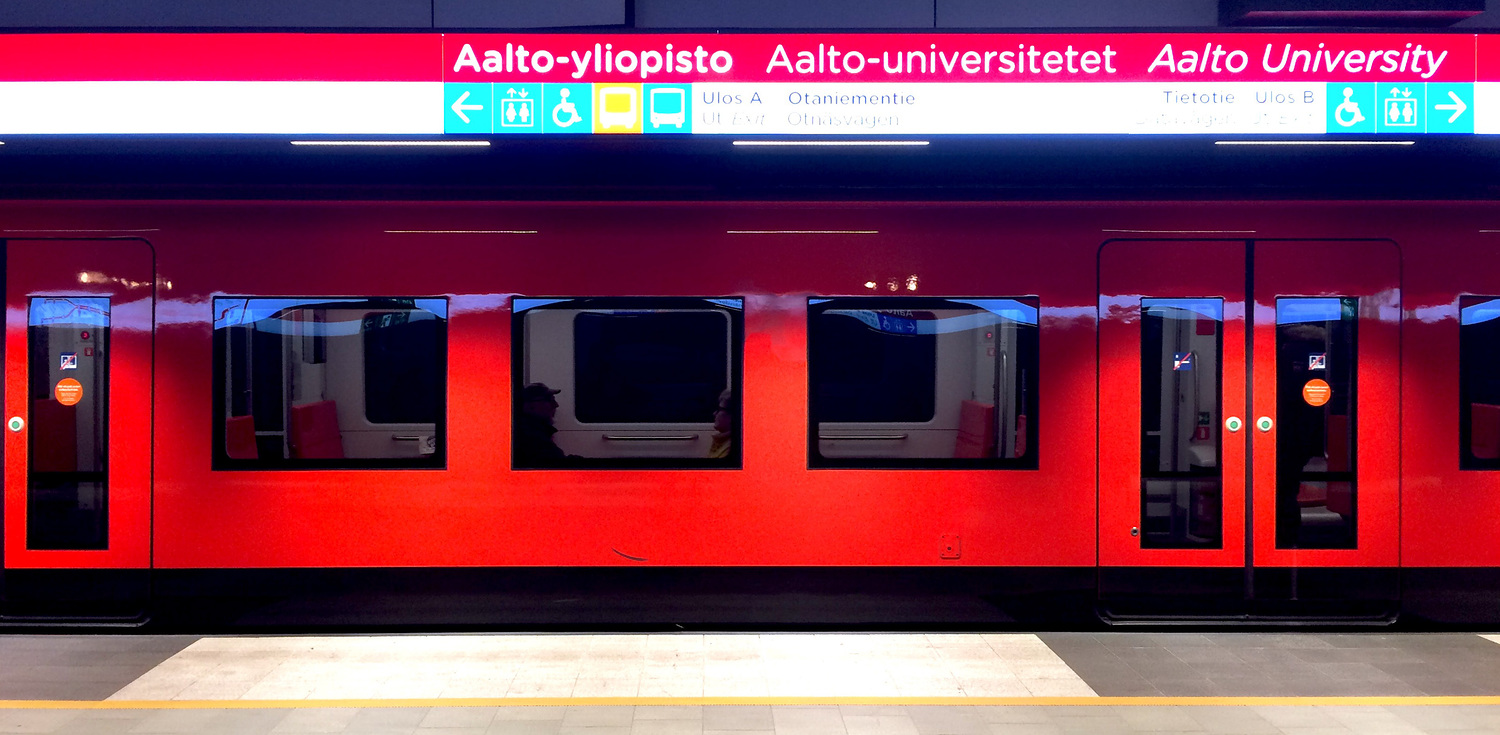 Public transport
Tickets
There is a common ticket system that covers trains, metro, trams, and buses.
Buy tickets before boarding the airport train or entering a metro station. There is no ticket sales on trains. There are regular ticket inspections, so make sure you have a ticket with you.
The easiest option is to use a ticket vending machine. Remember to buy a regional ticket (valid in Helsinki, Espoo, Vantaa, and Kauniainen). You can buy either a single ticket or a multi-day ticket (all machines sell single tickets, some smaller machines do not sell multi-day tickets). Ticket vending machines are blue and have an HSL logo. See here for more information on ticket prices.
Tickets bought from the machines are valid immediately; the date and time printed on the ticket indicates how long the ticket is valid. You do not need to do anything with the ticket; there are no gates at the stations and there is no need to validate the ticket, just keep it with you and show it if there is a ticket inspection.
You can also use your mobile phone to buy tickets: install the HSL mobile app on your mobile phone, enter your credit card information, and you can buy tickets using the app. Both single tickets and multi-day tickets are available; single tickets are a bit cheaper to buy that way: a single regional ticket is 4.20€ in the mobile app and 5.00€ in ticket vending machines.
The app can also produce a PDF receipt for your purchase if you need it for your travel expense claim.
Airport train
Just follow the train symbols at the airport to find the train station; along the way from the terminal to the train station there are also ticket vending machines.
At the airport train station, you can take any train ("P" or "I") going in any direction; it will take you to the Central Railway Station, which is the last stop. See here for more information on public transport options from the airport.
Metro train
The entrances to the underground metro stations are marked with red signs with a white letter "M". These metro stations are within a walking distance from the city centre:
"Kamppi" (Kampen)
"Central Railway Station" (Rautatientori · Järnvägstorget)
"University of Helsinki" (Helsingin yliopisto · Helsingfors universitet)
The metro route map is very straightforward: any train going west from any of these stations will take you to our campus. The right metro station is:
"Aalto University" (Aalto-yliopisto · Aalto-universitetet)
There are two exits at the station, the one called "Tietotie" (exit B) is much closer to our building (a 2-minute walk).