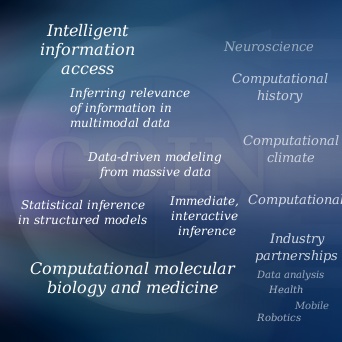 Postdoctoral call in computer science and information technology
We are looking for excellent postdocs to work in two flagships of COIN:
1. Inference on intractable models, see recent publications ( Two-phase importance sampling for inference about transmission trees and Bayesian Optimization for Likelihood-Free Inference of Simulator-Based Statistical Models ),
2. interactive intent modelling ( New search engine lets users look for relevant results faster). Joint affiliations among some of the 6 research groups of COIN are encouraged.
COIN's objective in general is to bring together several of the different core fields of expertise, to push the boundaries of what is possible in inference. Inference based on big data in genomics represents one of our highlight applications, with several recent flagship publications in Nature Genetics and PNAS (for examples see Dense genomic sampling identifies highways of pneumococcal recombination and Transfer of noncoding DNA drives regulatory rewiring in bacteria ). The latter paper received the 2014 Cozzarelli Prize by PNAS . Outstanding applicants interested in other aspects of machine learning, statistical inference, logical inference and their applications are welcome as well. For more information see the COIN website .
Please apply through HIIT website and open positions .