Details

Published: 07 February 2014
Kai, our new doctoral student, keeps a highly interesting blog on acoustics. Warm recommendation - please, have a look!
Details

Published: 07 February 2014
Three new doctoral students have recently started in our Virtual Acoustics group. They all work in the area of room acoustics modeling and optimization. Jukka has been with us already for some time, first as an intern and then as a MSc worker. He just finalized his thesis on FDTD modeling and started his doctoral studies on the same lines. Kai has background in acoustic consulting and construction. He is now a part-time student with us. His main interests are in optimization and geometric acoustics. Sebastian has obtained his MSc in acoustics from Aalborg, Denmark. He arrived in Finland just two weeks ago and is not taking his first steps on the path towards a doctorate. Welcome all!
Details

Published: 11 November 2013
Prof. Lauri Savioja and I (Jonathan Botts) just wrapped up a very productive two-week research trip to the University of Edinburgh.  We worked with Stefan Bilbao and his research team on various aspects of room acoustic modeling with finite difference methods.
We have several ongoing projects with this group, and the visit spawned one or two more.  We can post more details as results are published, but we discussed perception of modeling errors in room simulation, some stability issues with finite difference simulation, and how to actually extend these methods to realistic rooms.
The University (mostly the James Clerk Maxwell Building) was also a pretty cool place for physics.  On the floors, they have several forms of Maxwell's equations.  And upstairs, somewhere in the labyrinth of halls, Nobel Laureate Peter Higgs has an office.  We didn't find the actual office, but we did find a signed chalkboard: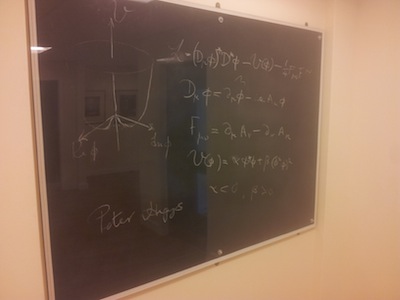 In the end it was a pretty great trip!
Details

Published: 19 September 2013
Three best paper awards were given out at this year's Digital Audio Effects conference (DAFx'13), held in Maynooth, Ireland, September 2-5 2013. Hannes Gamper from our Virtual Acoustics team received an award for the paper:
[1] H Gamper. Selection and interpolation of head-related transfer functions for rendering moving virtual sound sources. In Proc. Int. Conf. Digital Audio Effects (DAFx). 2013. URL BibTeX / Info
@inproceedings{Gamper2013b,
	author = "H. Gamper",
	title = "Selection and interpolation of head-related transfer functions for rendering moving virtual sound sources",
	booktitle = "Proc. Int. Conf. Digital Audio Effects (DAFx)",
	year = 2013,
	address = "Maynooth, Ireland",
	month = "",
	keywords = "Augmented reality,Auralization",
	url = "https://mediatech.aalto.fi/~hannes/admin/download.php?download=Selection_and_interpolation_of_head_related_transfer_functions_Gamper_DAFx_2013.pdf"
}