Research of the Probabilistic Machine Learning Group
We develop new methods for probabilistic modeling, Bayesian inference and machine learning. Our current focuses are:
Agile Probabilistic AI
Simulator-based Inference
Bayesian Deep Learning
Privacy-preserving and Secure AI
Interactive AI
Applications Incl. Health
These topics match the research programs of
FCAI
which we contribute to.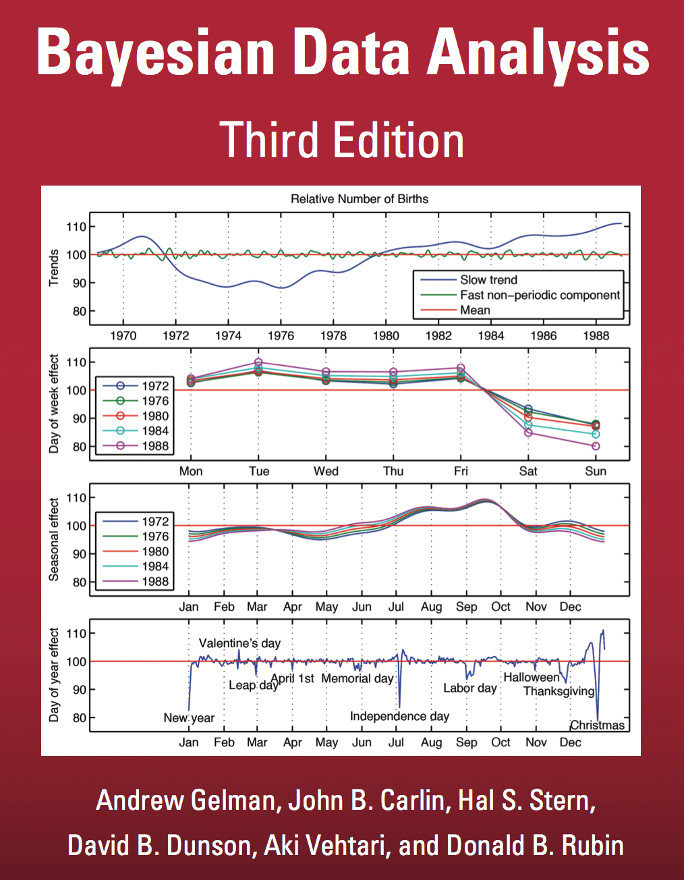 We develop and improve a principled Bayesian data-analysis workflow. Our core research is on designing computational diagnostics, devising methods and putting together tools that assist domain-expert data analysts in an agile and iterative workflow. This is done by building modeling tools and methods independently of the actual implementation in domain-specific fields. This enables the research to cover a wide range of models, such as Bayesian hierarchical models and Gaussian processes. The research is disseminated as free and modular open-source software, including software for the most popular probabilistic programming framework Stan. Some of the projects we contribute towards include projpred (core contributions), loo (core contributions), ArviZ, and viabel.
Representative Publications
Gelman, A., Carlin, J. B., Stern, H. S., Dunson, D. B., Vehtari, A., & Rubin, D. B. (2013). Bayesian data analysis. Chapman and Hall/CRC. [Publisher's webpage for the book] [Home page for the book] [Errata for 3rd edition]
Gelman, A., Vehtari, A., Simpson, D., Margossian, C. C., Carpenter, B., Yao, Y., Kennedy, L., Gabry, J., Bürkner, P.-C. & Modrák, M. (2020). Bayesian workflow. arXiv preprint arXiv:2011.01808
Piironen, J., Paasiniemi, M. & Vehtari, A. (2020). Projective Inference in High-dimensional Problems: Prediction and Feature Selection. Electronic Journal of Statistics, 14(1):2155-2197. [https://projecteuclid.org/euclid.ejs/1589335310]
Magnusson, M., Andersen, M. R., Jonasson, J. & Vehtari, A. (2020). Leave-One-Out Cross-Validation for Bayesian Model Comparison in Large Data. PMLR 108:341-351 [http://proceedings.mlr.press/v108/magnusson20a.html]
Gelman, A., Hill, J., & Vehtari, A. (2020). Regression and Other Stories (Analytical Methods for Social Research). Cambridge: Cambridge University Press. doi:10.1017/9781139161879.
Dhaka, A. K., Catalina, A., Andersen, M. R., Magnusson, M., Huggins, J., & Vehtari, A. (2020). Robust, accurate stochastic optimization for variational inference. Advances in Neural Information Processing Systems, 33 [https://proceedings.neurips.cc/paper/2020/hash/7cac11e2f46ed46c339ec3d569853759-Abstract.html].

Approximate Bayesian computation (ABC) and other likelihood-free methods have gained popularity across scientific fields, as they enable statistical inference with complex models that only exist as computer simulators. We focus on improving sample-efficiency, making likelihood-free inference (LFI) possible even on difficult problems where each single simulator run is computationally costly. In ongoing research, we harness this property to combine LFI and dynamical models. Important drivers for the theoretical work come from challenges we encounter in applying the methods in multiple fields, including cognitive science, population genetics, neuroscience, epidemiology, ecology and business-to-business marketing.
We develop the Engine for Likelihood-free Inference (ELFI, http://elfi.ai), an open-source Python software library that is designed to be modular and extensible. It provides a wide range of ABC algorithms, supports convenient syntax for defining the inference task and allows working with complex model hierarchies.
Representative Publications
We augment traditional deep learning methods with uncertainty from Bayesian principles, using Gaussian process and Bayesian neural network families, and extending to continuous-time dynamics. For Gaussian processes we develop novel deep function spaces and flexible covariance structures under model marginalisation. We develop scalable Bayesian neural networks by studying functionally diverse posteriors. We propose novel approaches to deep learning as continuous-time flows, replacing the conventional sequence of discrete mappings in deep neural networks.
Representative Publications
Trung Trinh, Samuel Kaski, Markus Heinonen. Scalable Bayesian neural networks by layer-wise input augmentation, (2020)

Simone Rossi, Markus Heinonen, Edwin Bonilla, Zheyang Shen, Maurizio Filippone. Sparse Gaussian Processes Revisited: Bayesian Approaches to Inducing-Variable Approximations (2020)

Zheyang Shen, Markus Heinonen, Samuel Kaski. Learning spectrograms with convolutional spectral kernels. AISTATS 2020
Pashupati Hegde, Markus Heinonen, Harri Lähdesmäki, Samuel Kaski. Deep learning with differential Gaussian process flows. AISTATS 2019, notable paper award

Cagatay Yildiz, Markus Heinonen, Harri Lähdesmäki. ODE2VAE: Deep generative second order ODEs with Bayesian neural networks. NeurIPS 2019

Figure : Using differential privacy (depicted as a privacy wall), allows us to learn a predictive model y from sensitive data set D.

Careless use of increasingly refined personal data raises concerns for privacy. Recent advances in privacy-preserving machine learning have made it possible to learn from data in both centralised and decentralised settings, without violating the anonymity of individuals. We combine differential privacy, a de facto standard for privacy-preserving data analysis, with Bayesian inference to develop powerful techniques for probabilistic modelling with rigorous privacy guarantees. To advance the theory we are actively studying ways to introduce differential privacy into established inference algorithms for probabilistic models and improve on existing ones. For sharing data we have recently introduced methods for generating synthetic twins of sensitive data using differentially-private inference for probabilistic models (Jälkö et al., 2019), released in package Twinify which is developing towards an easy-to-use programming framework.

Representative Publications

Most machine learning systems operate with us humans, to augment our skills and assist us in our tasks. In order for an AI assistant to help intelligent agents, in particular humans, it would need to understand the factors that affect their behaviour. These factors (goals, plans, biases,...) are latent and non-stationary, and it is a difficult challenge both to infer them and to use them in the best possible way. We develop the probabilistic interactive user models and inference techniques needed to understand human agents and how to assist them more efficiently. This research contributes directly to the FCAI Interactive AI program.

Related keywords: active learning, experimental design, knowledge elicitation, multi-agent learning, machine teaching.

Representative Publications

We develop methods for pushing the boundaries of machine learning in many application fields, using e.g. interactive AI, active learning, exploratory data analysis, deep learning, and combining multiple data sources. In healthcare and medicine, machine learning can augment current medical procedures, and help to solve complex prediction problems, such as modeling treatment response, or predicting properties (such as toxicity) of chemical compounds from their molecular structure. In information retrieval and recommender systems, we aim at modeling users' behaviors and decision-making in dynamic environments to infer their intents.

For example, our human-in-the-loop machine learning methods bring in domain experts' knowledge to the models to improve individualized predictions of drug responses [Sundin et al., 2019, above], or to predict breaks in large-scale cable TV networks more robust. Recent works in other application domains include materials science [Mikkola et al., 2020, above], chemistry [Ghosh et al., 2019], neuroscience [Leppäaho et al., 2019], and genomics [Järvenpää et al., 2018].

Representative Publications

Tuukka Ruotsalo, Jaakko Peltonen, Manuel JA Eugster, Dorota Glowacka, Patrik Floréen, Petri Myllymäki, Giulio Jacucci, Samuel Kaski (2018). Interactive Intent Modeling for Exploratory Search. ACM TRANSACTIONS ON INFORMATION SYSTEMS, 36(4):1-46. [Link]
Kunal Ghosh, Annika Stuke, Milica Todorović, Peter Bjørn Jørgensen, Mikkel N. Schmidt, Aki Vehtari, and Patrick Rinke (2019). Deep learning spectroscopy: neural networks for molecular excitation spectra. Wiley Advanced Science
Eemeli Leppäaho, Hanna Renvall, Elina Salmela, Juha Kere, Riitta Salmelin, Samuel Kaski (2019). Discovering heritable modes of MEG spectral power. Human Brain Mapping, 40(5):1391-1402. [Link]
Marko Järvenpää, Michael U. Gutmann, Aki Vehtari, Pekka Marttinen (2018). Gaussian process modelling in approximate Bayesian computation to estimate horizontal gene transfer in Bacteria. ANNALS OF APPLIED STATISTICS, 12(4):2228-2251. [Link]